Dear Colleagues,
It is a great honor and privilege to assume the role of President of the National Association of Black Narcotic Agents (NABNA).  I am humbled and grateful to be entrusted with the responsibility of representing this outstanding organization.  As I look forward to continuing the many fine traditions of NABNA, we will continue seeking new creative ways to further our mission and increase our membership.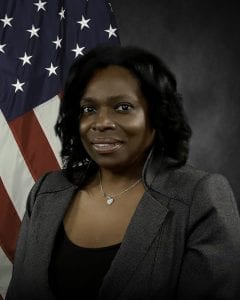 NABNA is devoted to furthering the hiring, training, and retention of minority Drug Enforcement Administration (DEA) employees. Together, we will help our organization grow, evolve, and meet new challenges with steadfast dedication and enthusiasm.  At NABNA, we are all role models whether we want to admit it or not, and my plan is to lead by example by exerting the same level of energy and commitment that each of you tirelessly pour into our organization.
We have come a long way since NABNA was founded in May 1978.  The scope of NABNA has broadened considerably in the last 36 years.  Those who have steered NABNA along its dynamic journey have done so in a responsive and respectful way, ensuring appropriate adjustment and continuity in NABNA affairs.  As a result, the founding fathers of NABNA deserve our acknowledgment: Charlie Brown, Jr., Calvin C. Campbell, Gerald D. Chapman, Morris H. Davis, Ellis L. Dean, Gene H. Johnson, Albert L. Parrish, Jr., and James H. Williams.  We sincerely thank them for their leadership, dedication, and vision over the years and for their ongoing contributions in the planning and organization of conferences and other NABNA activities.  Let us congratulate and welcome our new board members: Karen Dorough, Vice President, and Jason Bradford, Parliamentarian as we draw on their expertise in support of NABNA's goals.
Major goals of NABNA in the coming year are to increase membership, increase scholarships, and increase participation in the conference and all NABNA activities.  The 2014 NABNA conference in Baltimore is a great example of NABNA Pride.  NABNA provided 5 scholarships to 5 deserving students!  The conference exceeded all expectations. There is much gratitude to the entire local Washington D.C. chapter for their hard work in making the Baltimore conference such a resounding success.  The 2015 NABNA conference is scheduled for St. Louis, MO and is expected to be bigger and better than ever!
In support of NABNA's exemplary participation in and promotion of teamwork, we will work on extending our membership to law enforcement personnel from other federal, state, and local agencies as well as to non-law enforcement citizens.  The increasingly complex and rapidly changing world elevates the importance of fostering relationships with others.  Together, we will promote a spirit of professionalism by preparing all NABNA members for lifelong success through educational and training opportunities.  This will be accomplished by encouraging enhanced communication and professional development for personnel while developing and opening the minds of youth to global career opportunities in federal, state, and local law enforcement.  We will continue to proudly offer thousands of dollars in scholarships to well-deserving youth whose promising futures include rewarding careers in law enforcement.
As we carry NABNA into the future, we will work hard to double our membership from last year and increase community activities.  We thank our long-time sponsors The Federal Long Term Care Insurance Program, Justice Federal Credit Union, and Blue Cross Blue Shield.  We are excited about the First Annual NABNA Awards, to be presented at upcoming conferences in recognition of those outstanding individuals who go above and beyond to make a difference in the workplace and in the community.
As your new president, I am asking every NABNA member to assist with accomplishing our goals. I look forward to full support in recruiting new members and participating in all NABNA activities. Looking forward to seeing familiar faces along with many new member faces at the conference in St. Louis, MO next year!
Thank you for your continued support and cooperation.
Kind regards,
Karen D. Dorough
President,
NABNA